Hulu with Live TV Review: Channels, Features, Price, and More
The skinny bundle market just got even more crowded. Hulu, the streaming video on demand service that is best known for competing with the likes of Netflix and Amazon, has waded into the skinny bundle market with a live TV service. Hulu with Live TV offers Hulu subscribers exactly what the name suggests: live streaming TV networks, which puts the company in competition with skinny bundle veterans like Sling TV and DIRECTV NOW. Hulu with Live TV is still in beta, but we took an early look at the fledgling service to see how it stacks up against its more established competition. Here's our Hulu with Live TV review.
Hulu with Live TV Review
User Experience
Hulu with Live TV has a pretty elegant app, which is good – but it also has its own app, which is bad. Hulu puts its two services side-by-side on its website, so I don't understand why they couldn't have integrated this new functionality into their existing app. You can watch on-demand content on the new app, so you don't really need the old one. I'm not sure why the old one is still around.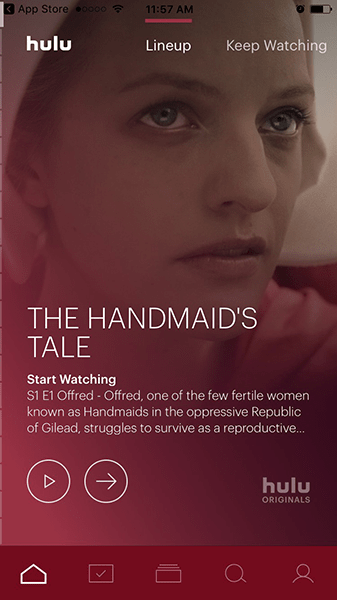 With that said, the new app is really nice. It's elegant and easy to navigate, and it offers a ton of options for content discovery. You can choose a program from the customized "lineup" (swipe up on mobile to move between full-panel suggestions), save programming to the "My Stuff" tab, choose on-demand content, or search. Live TV is under the same tab as the on-demand content, which is a little odd (why not give it its own tab?), but not a big deal.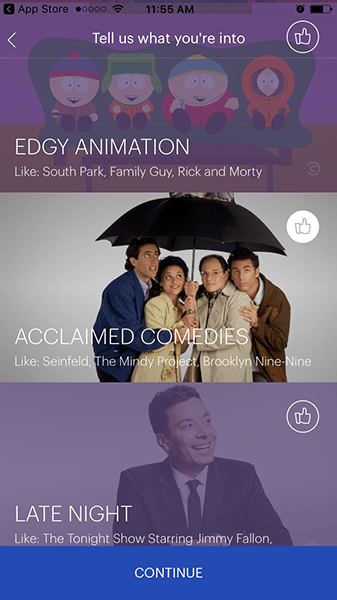 Hulu has some nice user-friendly features, including some custom content discovery that is based on your responses when you first open the app (you can choose favorite genres, channels, and shows). There's also a DVR which, unfortunately, will cost you extra – more on that in the pricing section of this Hulu with Live TV review.
Content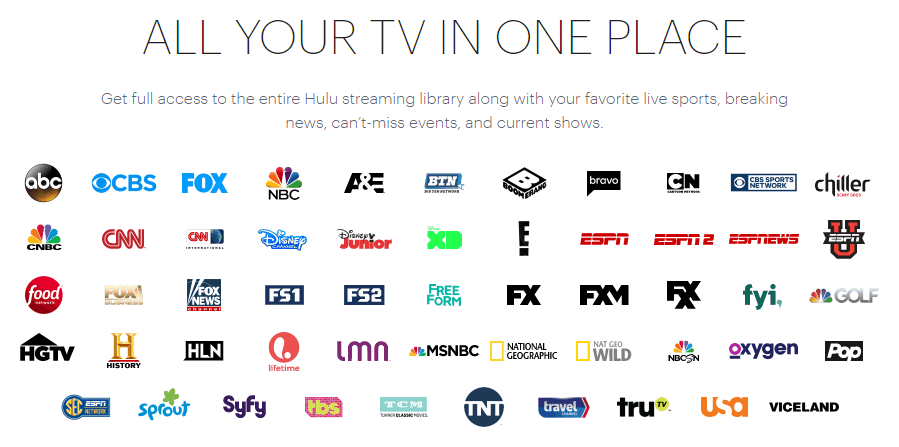 While different skinny bundles organize their channels differently, there has never been a ton of daylight between the main competitors in terms of numbers and quality of channels. The usual suspects appear in pretty much all skinny bundles: ESPN/Disney networks, Viacom networks, AMC networks, and the like.
Unfortunately, Hulu with Live TV has broken this trend. It arrives on the scene with some very noticeable holes in its channel lineup.
Hulu's new service is missing Viacom channels, and there is reportedly no plan to add them soon. That means no MTV and no Comedy Central, among others. Also missing are Discovery Communications (Discovery Channel, among others) and AMC Networks (AMC, of course, among others).
You can add Showtime as an extra, but fans of HBO and Starz are out of luck.
Like other skinny bundles, Hulu offers local broadcasts of the four major networks (ABC, CBS, Fox, and NBC) in select markets. But Hulu's local broadcast markets are far fewer than other skinny bundles' – right now it's just New York, Los Angeles, Chicago, Philadelphia, and San Francisco.
The good news is that Hulu with Live TV does offer Fox properties (Fox, FX, FS1, and others) Disney properties (ESPN, Freeform, Disney Channel, and others), NBC properties (NBC, Golf Channel, NBCSN, and others), plus channels from A&E Networks, Turner, Scripps, and CBS. Some regional sports networks are available in select areas, bolstering a pretty solid sports channel lineup. All told, there are over 50 channels in the lineup.
Overall, though, Hulu with Live TV's lineup compares unfavorably to what's already on the market.
Streaming Quality
In my trials, Hulu with Live TV streamed extremely well. It was smooth and in consistent HD, and channels loaded pretty quickly – more quickly, in fact, than I'd expect of the competition. This was true on Wi-Fi and only slightly less true on my mobile network, which was very impressive. It's a shame there weren't more great channels to watch in this crisp HD.
Platforms
Platform support for Hulu with Live TV is a little weak at the moment. iOS, Android, and Apple TV apps are already live, and you can use Chromecast with the mobile apps, but fans of Roku, Fire TV, and other devices are out of luck for now. Those apps, along with much-needed Windows and Mac apps, are promised soon.
How Much Does Hulu with Live TV Cost?
Hulu with Live TV will set you back $39.99/month. That's for 50+ channels. On a per-channel basis, this service is pricier than any of its competitors. DIRECTV NOW's cheapest plan is $35 and comes with 60+ channels instead of 50+; Sling TV is also cheaper on a per-channel basis.
Hulu with Live TV will give you a DVR if you pay extra, but Sling TV includes this with the regular price.
Ready to try Hulu with Live TV?
We've partnered with Hulu to bring our readers special offers and pricing.See Exclusive Offer
Verdict
The skinny bundle is the most-cable like alternative to traditional pay TV, and its relatively low price point makes it an ideal option for cord cutters who don't want to go without live TV. There's plenty of room in this market for a lot of healthy competition, so there's nothing wrong with Hulu entering the fray a little late.
But Hulu with Live TV isn't just a day late – it's also a dollar short. Hulu's service is missing features and content that come standard with the competition. In a market with at least three strong contenders, Hulu has arrived offering a service that charges more and offers less. It's easy to see why Hulu felt it needed a skinny bundle service, but it's very hard to see why customers would need what Hulu came up with.