5.11 Tactical Pants Review – Icon and Capital
Whether on duty, at the range, or running errands, 5.11 Icon and Capital pants are functional, versatile and durable to meet the needs of active professions and lifestyles; they are among the best tactical pants available.
Pants are an essential piece of tactical equipment, and having the right pair of pants will keep you comfortable and organized during long shifts or extended range sessions. 5.11 has long been a leader in tactical clothing innovation, and their Icon (style# 74521) and Capital (style# 74524) pants combine the versatility and durability that shooters have come to expect from the brand with class-leading comfort. The tailored fit and multiple storage options make the Icon and Capital ideal garments for just about any occasion; they are among the best tactical pants available today.
5.11 Tactical Icon Pants: The New Standard in Utility
A day at the range requires a lot of gear. For years, tactical pants have been designed to hold plenty of extra ammunition, magazines, knives, wallets, identification and all the other essential items that shooters and LE professionals need. The problem with traditional tactical pants, however, is that all that extra storage space comes with an increase in weight. What's more, poorly organized pocket placement leaves shooters constantly fishing for their gear.
5.11 changed that with the introduction of the Icon pant (style# 74521). They offer low-profile cargo pockets with internal dividers that keep your gear organized and close-at-hand, and that means no more billowing side pockets to rifle through when you need a specific item. The Icon's front utility pockets are trim yet they offer plenty of internal space and rapid access to your gear, and generously-sized hand pockets offer additional storage. Nylon 6 reinforcement inside of the Icon's hand pockets, utility pocket, and cargo pocket dividers protects the fabric and prolongs the life of the garment. If you include the internal dividers in the cargo pockets there are a total of 12 pockets to efficiently organize all your accessories.
Comfort hasn't always been a top priority for tactical pants manufacturers, but 5.11 changed that. Icon's updated fit pants are constructed of 80% polyester/20% cotton blend fabric that is lightweight at 6.8 ounces and has mechanical stretch. Flex-Tac® Ripstop makes these pants much more durable than competing brands, and the Teflon™ finish resists stains, water, and dirt for longer wear life and improved durability. In addition, the polyester/ cotton blend material offers excellent color fastness and comfort. Gusset construction improves range of motion and comfort, and articulated knees allow you to move freely. These features in combination with light Flex-Tac® construction allow athletic movement without chaffing, constriction, or added bulk.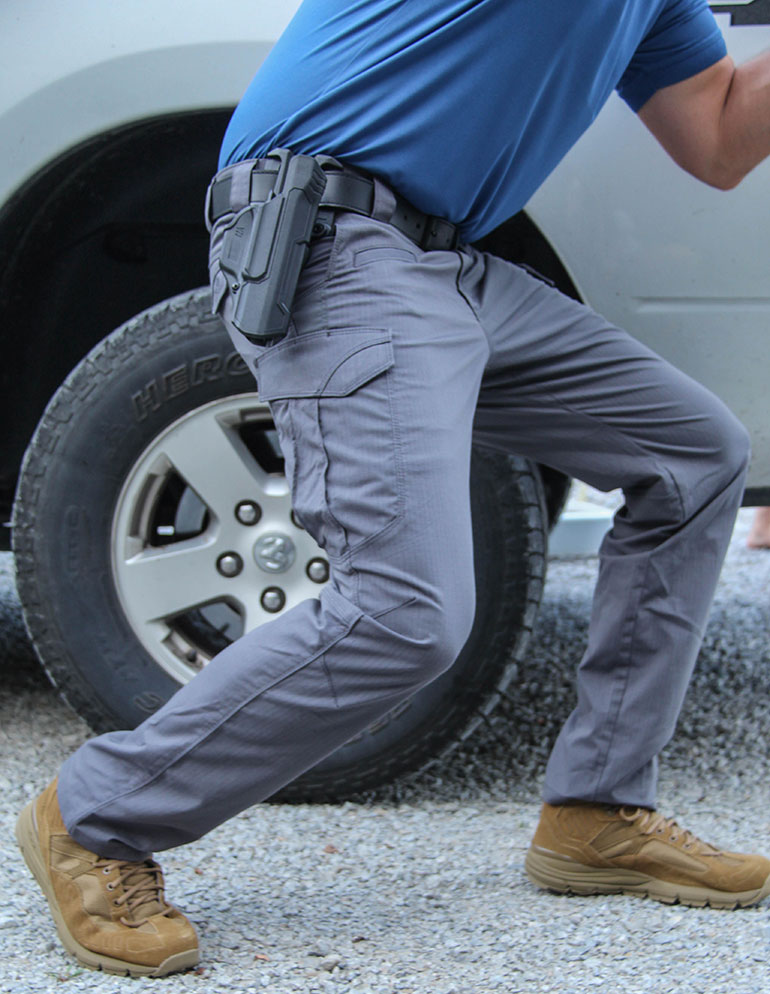 The Icon's comfort waistband offers added space for carrying an IWB handgun and the belt loops are large enough and strong enough to accommodate wide gear belts. There are six different color options from which to choose with waist sizes ranging from 28 to 40 inches and inseam lengths from 30 to 36 inches. Unlike other tactical pants the Icon's modern cut and sleek design is stylish enough to wear every day. They provide plenty of storage options with a lightweight design, and the durable Flex-Tac® fabric with Teflon™ coating to resist stains and damage. The high waistband sits comfortably on the hips and stays in place even when wearing a duty belt and holster, and dual top closure buttons offer added security. 5.11 Icon pants offer a level of wearability and comfort you simply won't find in competing tactical pants. Retail: $74.99

5.11 Tactical Capital Pants: Blending Comfort and Function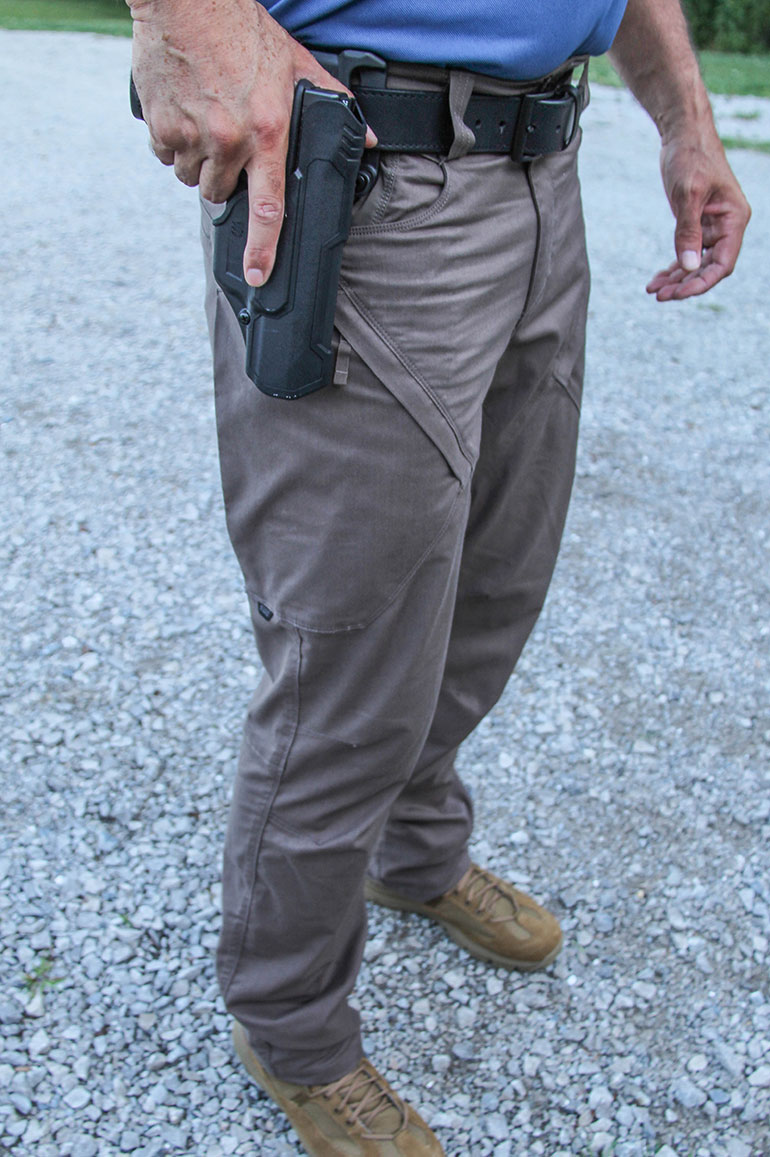 The 5.11 Capital Pants (style# 74524)  offer all the storage options you want from a tactical garment. With a modern, updated fit, these pants work well for any application, and the 77% polyester/33% cotton blend construction keeps shooters comfortable even on the warmest days. A combination of Flex-Tac® mechanical stretch 6.4-ounce fabric and Teflon™ ensure that they hold up well to the rigors of everyday wear, and the comfort waistband design and articulated knees allow for a full-range of comfortable movement. They're comfortable enough to wear all day and provide the durability you need in a range or duty garment. Dual button closure adds an extra layer of security and durability.
Capital Pants offer plenty of thoughtfully laid-out storage options for fast access to your gear. There are a total of 11 pockets including zippered front utility pockets, hand pockets, and divided cargo pockets as well as a discreet magazine pocket on the rear yoke and a flex cuff channel and cuff key pocket inside the waistband. The cargo pockets are also angled, and this feature allows access to these pockets from a seated position—a major advantage over other tactical pant designs. Poly/elastane stretch material inside the pockets secures items, and the tall waistband with durable loops accommodates wide gear belts. Despite all of these storage options Capital Pants offer a low-profile, updated design that doesn't add extra bulk while you're on the range or in the field.
The poly/cotton construction and Flex-Tac® fabric allow for a full range of movement, and these pants are well-suited for competitive handgun shooters as well as LE professionals. Even casual shooters will appreciate their light weight, rugged construction and modern styling. The tailored design offers a modern look that's suitable for the office, and the assortment of internal and external pockets provide plenty of storage options. Durable hemmed cuffs fit snugly around your boot, yet there's still room for carrying a backup gun on the ankle. The high waist provides support for IWB carry guns, and the yoke-mounted mag pockets offer easy access to a spare mag when you need it most. 5.11 Capital Pants are offered in six color options, available with waist sizes from 28 to 40 inches and inseams from 30 to 36 inches.